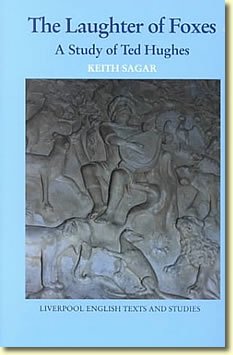 The Laughter of Foxes
(Liverpool University Press, 2000)
The Laughter of Foxes surveys the whole of Hughes' achievement, not only in verse. It contains a great deal of new information, including extracts from Hughes' letters to the author, a detailed chronology of his life and work by Ann Skea, and the first publication of the background story of Crow. There are chapters on the mythic imagination, the poetic relationship of Hughes and Plath, and on the evolution of a Hughes poem through all its manuscript drafts. But the main purpose of the book is to attempt an adequate reading of Hughes' poetry, revealing the underlying quest which transformed his imagination, leading him by painful stages from a vision of a world made of blood to a vision of a world made of light.
'This book is invaluable for anyone interested in Hughes' work'
Elaine Feinstein Daily Telegraph

'Sagar's strength is his ability to appreciate from the inside the mythic journey which Hughes was undertaking through his work. Sagar's fine and sensitive book is proof that penetrating critical thought can be couched in lively and readable prose'
Erica Wagner The Times

'In an age when most of what passes for literary criticism is of interest to no-one but initiates of its own scarcely penetrable codes, here is a book which continually reminds us what an enlarging joy and privilege and challenge it is to read the work of a master-poet. In doing so, it performs a valuable service both to its subject and to the wider evolution of consciousness in our time. Whether poetry matters to us or not, the responsibility remains with each of us to bring to our lives the highest degree of ethical commitment and imaginative energy of which we are capable. And in that struggle, as the life and work of Ted Hughes so magnificently demonstrate, poetry can be far more than the consolation of an idle hour: it becomes a vital source of transforming energy'
Lindsay Clarke Resurgence
'The Laughter of Foxes undertakes the necessary labour of fitting to the poetry the paradigms worked out in Hughes' fascinating mytho-critical prose from the 1990s. ... The central chapter, 'From World of Blood to World of Light', convincingly plots Hughes' progression towards a potentially redemptive vision.'
Jeremy Noel-Tod Times Literary Supplement
Hughes' version of Euripides' Alcestis was published too late for me to be able to give it more than a brief reference in The Laughter of Foxes. It is, of course, highly relevant to the ending of the second chapter. My fuller, more considered account can be downloaded here.
(Click for Word document or pdf format)
The 143 letters Hughes wrote to me are now at the British Library. A full description of them by Christina Patterson appeared in The Guardian 18 August 2001.

Links
This book can be ordered from The Times online bookshop

An international Hughes website is run by Claas Kazzer from the University of Leipzig.
For information about Hughes activities in the Calder Valley visit The Mytholmroyd Web.

Ann Skea has her own excellent Hughes website.

[Home] [The Laughter of Foxes] [Literature and the Crime against Nature]  [Risk]